Do gemstones and crystals have healing powers or do they just sit there looking pretty? I don't know, so I bought some watercolour paints made from real gemstones to try to find out. They weren't cheap, but you know – crushed gemstones! I spent a very nice day painting with my new gemmy/ chrystally paints. I've gotta say Amethyst- oh, oh, oh. Love, love, love! It shimmers, it sparkles, and amazingly, it actually sits on the paper without falling off. I'm probably not going to use it for botanical works or portraits. But for abstracts, it's the bees knees. I'm very impressed with the sodalite too. It is very similar to Payne's grey and it granulates beautifully.
I tried a variety of watercolour papers, and some were better than others at supporting the paint and preserving that beautiful translucent quality that most of us want from watercolours.
The other paints I chose were: lapis lazuli, green apatite, rhodonite, green diopside, tiger's eye, sodalite and kingman green turquoise. These are all from the Daniel Smith Primatek range. The colours all work together, and have a vintage look.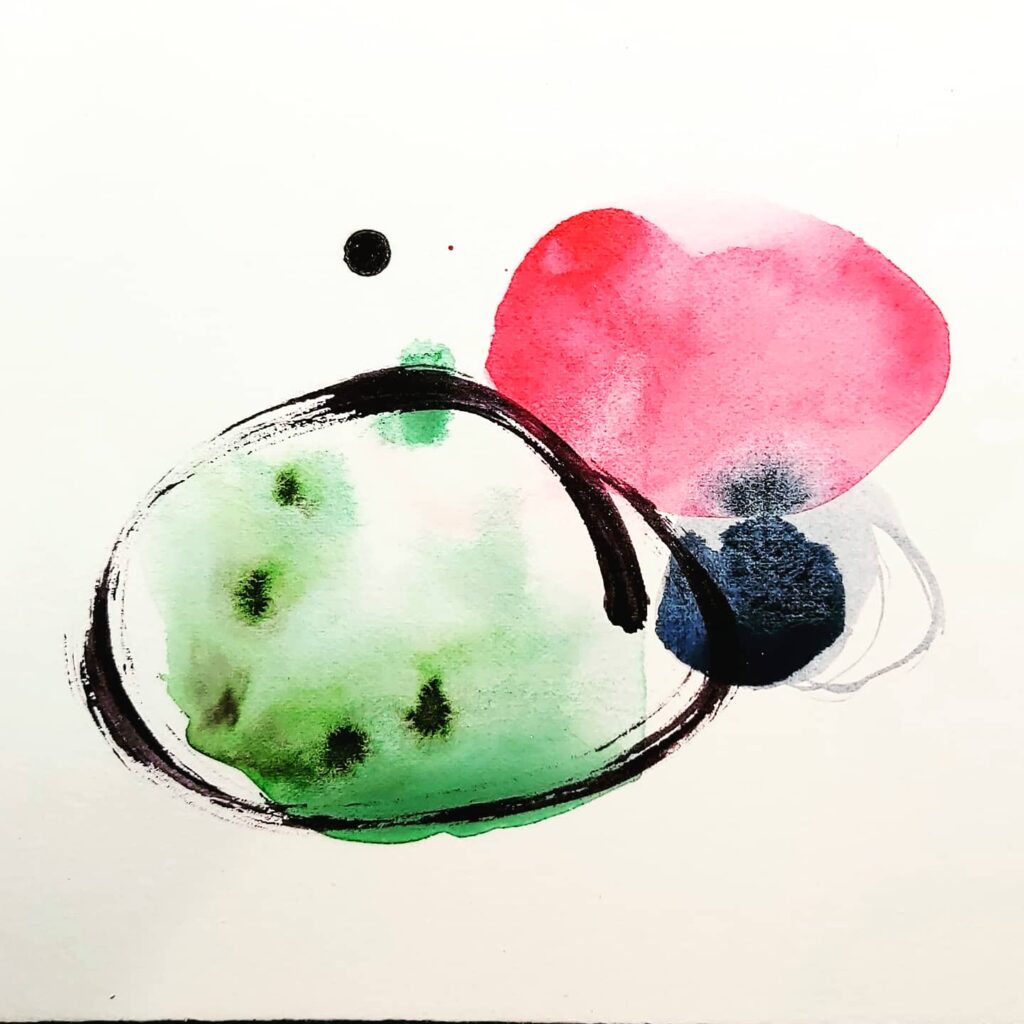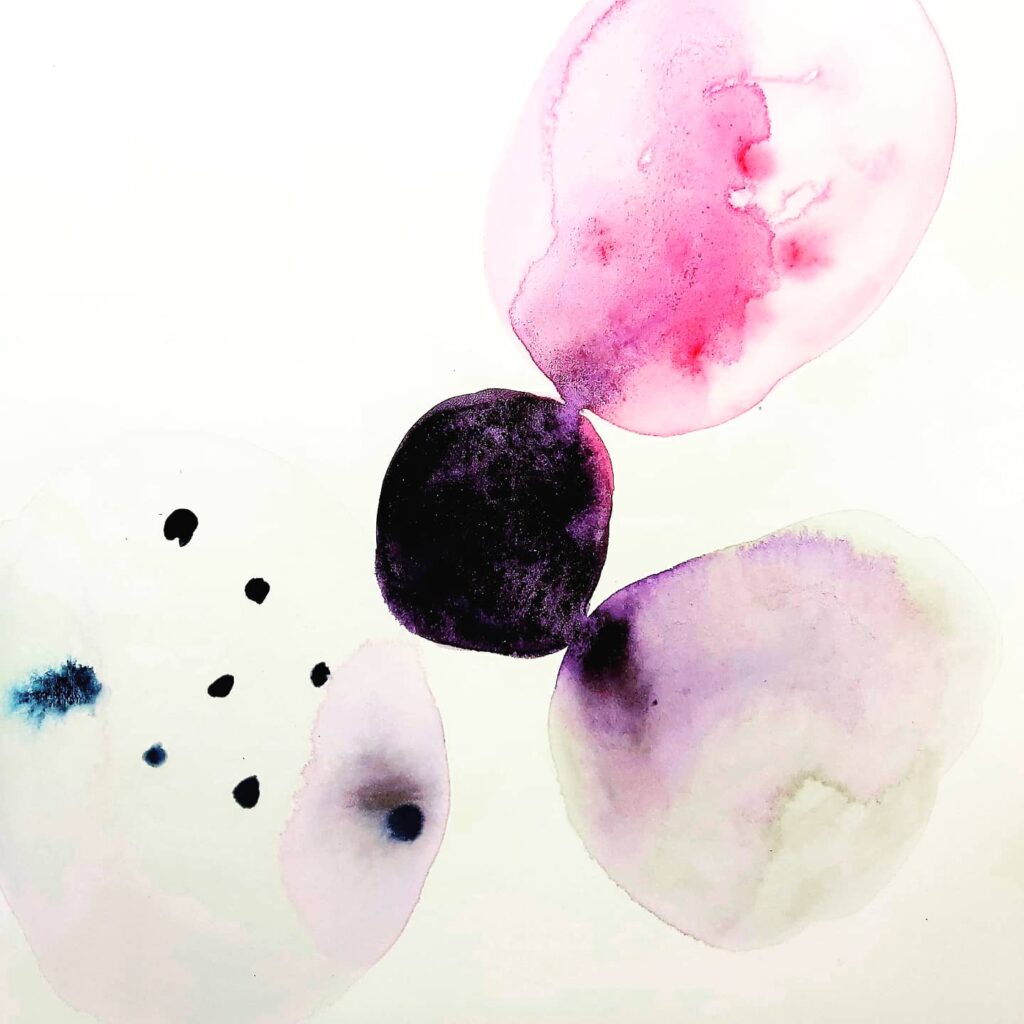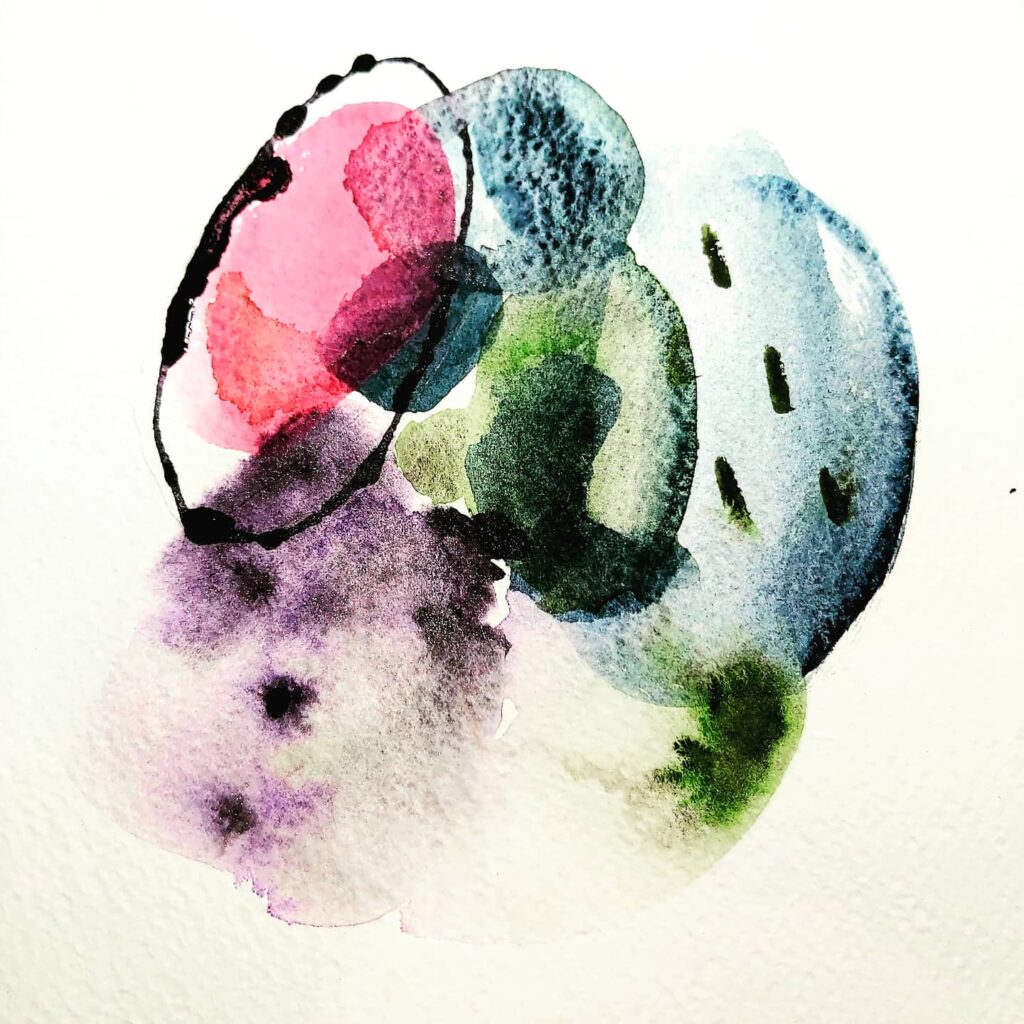 I chose the gemstones for their colour, without knowing about their symbolism. At the time of choosing the paints, I wrote down that I would like something with healing properties, something to help me get along with some people who were being difficult, and something to lift my mood. I have to say that after a day painting with all these beauties, I felt happier and more calm. I do actually feel healthier than I did then. And I found a way to navigate the situation with the difficult people.
Was it the gemstones? Indirectly, maybe-probably. I spent a whole day being mindful (concentrating on my paintings) and relaxed. That's gotta help, doesn't it!
So now…. time to look up the symbolism. What do they represent? Let's ask Google……
Amethyst – relieves stress, balances mood, dispels fear, anger, rage and anxiety. Promotes dreams, sobriety, wisdom, sincerity, wisdom. Nice!
Lapis Lazuli – royal prescence, truth and integrity, powerful and mysterious, boosts the immune system, alleviates insomnia and vertigo. Promotes honesty, dignity, friendship and sociability.
Sodalite – promotes order and calmness, rational thought, emotional balance, self esteem, truth and intuition. Calms panic attacks. Oh, good – I almost had one recently. Not a fun thing at all. Yes, sodalite looks like a good choice for the times.
Turquoise – promotes calm, also calms panic attacks. Interesting. Alleviates symptoms of rheumatism, gout, stomach problems and viral infections. Hmmm, I'll have to find out what rheumatism actually is. Later. Oh – here's a good thing…. invites you to figure out what is working for you and what isn't! Gentle and comforting. Good for dissolving feelings of self pity and martyrdom. Yep, don't want to waste time in self pity – that doesn't help anything or anybody.
Apatite – energises, nourishes, promotes physical healing, new beginnings, can assist in attracting money. Enhances creativity and intellect. Another good choice.
Diopside – promotes love and forgiveness, creative vision and awareness, good for feminine health and kidneys.
Rhodonite – promotes compassion, nurtures love, wound healing, well-being.
Tiger's Eye – promotes mental clarity, problem solving, dispelling fear and anxiety, courage and bravery, protection.
All in all, I think they were generally good choices for where I'm at in my life. I wonder if the ones I didn't buy were equally as fabulous. I'm going to call the results "inconclusive", and do some more paintings.