In and out of lockdown, then back in again after only four days. It's a challenge to stay positive when there's a pandemic prowling the neighbourhood. We're really blessed to live on a farm so we can walk around, we have personal space, and for the fact that we're both introverts. But I miss everyone. I miss my family and friends, and even the weirdoes I barely know.
Meanwhile, there's an art exhibition planned for the local hall at Numulgi this coming weekend, and the organisers have decided to push on and hope that we're out of lockdown by then. Good on them, and they invited me to exhibit too, so I painted and drew something which was inspired by a dream. The dream came about when I signed up for a Masterclass for Christian Artists this week. So, it all neatly dovetailed together. It's about being an artist in lockdown, being mindful and appreciative of what I have. I think I will take this theme a bit further, but just in case the exhibition goes ahead on the weekend and I sell this work, I thought I would celebrate it right now.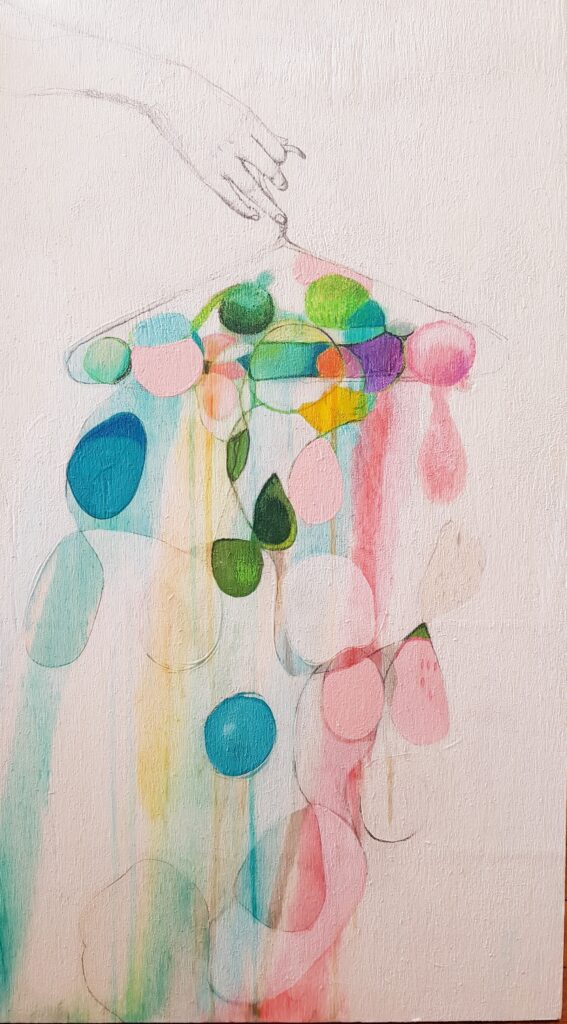 The Maker. Inks, coloured pencil, graphite and acrylic paint on an offcut of gessoed plywood.
All the art supply places were closed, and I think that even the hardware stores are closed, so I used what I had. Now, hopefully I can find some stuff to hang it with or it might have to be exhibited on a chair!