Hindsight is twenty-twenty they say. 2020 – also an interesting year with the pandemic still raging. What will you say in hindsight? With many of us coming out of lockdown and able to see friends and family for the first time in months, picnics are the big thing. We can maintain our social distancing rules and yet connect with each other again. It makes sense that picnic food is high on the list of priorities, with individual servings of things that don't need refrigeration.
So, I have created something that is perfect for a picnic in the park! It's healthy, delicious, easy to make and take. Let's call it Custard Apple Berry Jar, because you make it into a jar. Mine here is gluten free and dairy free.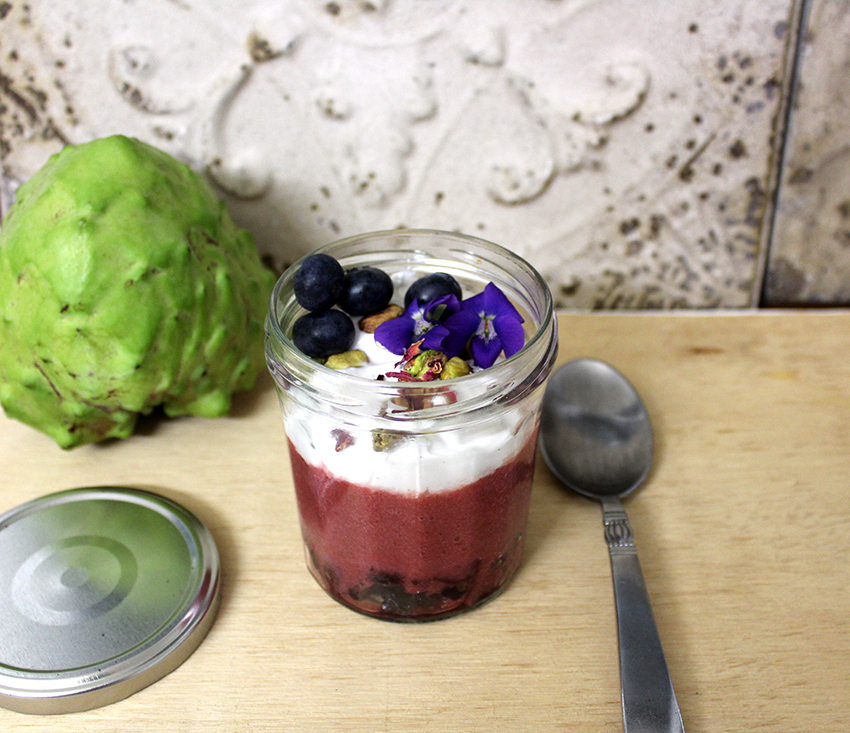 To make this, you will need:
1 large or two smaller custard apples
1 punnet of strawberries
Dried cranberries
2 teaspoons of beetroot powder (to make it pink)
2 teaspoons of rosewater
15 grams of gelatin, dissolved in 1/4 of a cup of hot water
Gingernut biscuits (gluten free, dairy free)
Thick coconut yoghurt (gluten free, dairy free)
A few blueberries, pistachios and edible flowers for garnishing
Method:
Place gingernuts in the bottom of each clean jar. Add a sprinkle dried berries. Next, place de-seeded custard apples, strawberries, gelatin, rosewater, and beetroot powder in a blender, food processor or bowl and blend together. Pour gently over the gingernuts and dried berries. Fill jars to 3/4 full. Chill for about half an hour, so it sets. Add a couple of dollops of yoghurt, and sprinkle with pistachios, edible flowers and blueberries. Put the lid on and it's good to go. Serves 8
Enjoy yourself at the park.